Many homeowners, under the assumption that thicker equals better, will simply buy the thickest underlay they can afford. However, the choice isn't as straightforward as it seems.
Carpet underlay thickness should be determined by a variety of factors. Where it will be installed, the type of subfloor it will be laid over, whether or not there is underfloor heating, your personal comfort requirements and budget will all play a part in getting the decision right.
In this guide we'll aim to help you pick the correct underlay thickness for your project, giving you the perfect balance of comfort, performance and value.
In this guide
How thick is carpet underlay
The table below offers an overview of how we classify different carpet underlay thicknesses, and what you can expect from each:
TYPE
MEASUREMENT
KEY FEATURES
Thin
6-8mm
Carpet underlays between 6-8mm are typically cost effective options that offer the basic support your carpet needs to look its best, along with a comfortable sensation underfoot.

Being thinner means they are lighter in weight and therefore easier to install, making fitting simple.

At this thickness and price point you will generally sacrifice insulation, sound reduction and durability, particularly with PU foam underlays.

However, there are some specialist products that fall into this category, including underlays which are compatible with underfloor heating (UFH), where a thinner product and low TOG rating ensures your UFH system performs efficiently, as well as some extremely high density rubber underlays for commercial environments.

This goes to show that you shouldn't always assume that thicker is better.
Medium
9-10mm
9-10mm carpet underlays are usually good all-rounders that can be installed in all areas of the home, including stairs and hallways.

Offering high levels of comfort, insulation and soundproofing, they represent excellent value for money.

This thickness is ideal for homeowners that want to use the same underlay across their entire home/project, saving the hassle of ordering multiple products and minimising wastage.
Thick
11mm+
Any carpet underlay 11mm or over will offer unrivalled comfort underfoot, as well as superior insulating and noise reduction properties.

These luxury products sit at the top end of the market in terms of price point, but you really do get what you pay for.

However, be aware that extremely thick underlays aren't best suited to high-traffic areas such as stairs and hallways. For these spaces we would recommend a medium thickness product with a high density rating.

That said, you'll never regret picking a thick underlay for your lounge or bedroom.
Density vs. thickness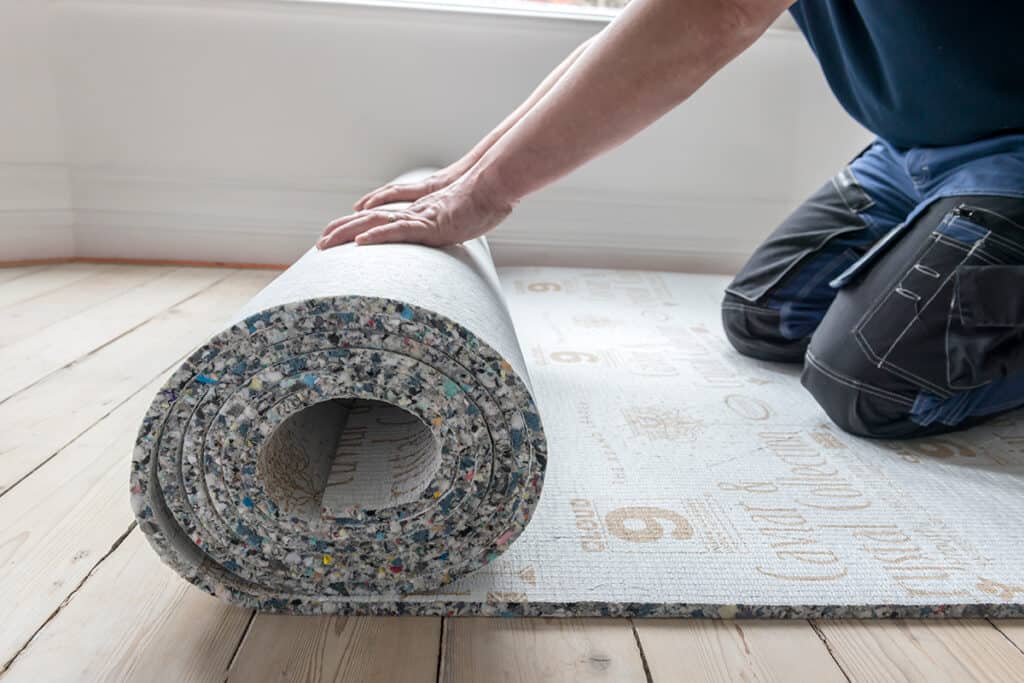 On all of our carpet underlays you will find a density rating, which is a number that represents just how much PU Foam/Rubber/Sponge is packed into each cubic metre of the product. It's expressed in kg/m³ to make comparing like for like easier.
Generally speaking, the higher the density rating, the better quality and more supportive the underlay is going to be (and the longer it will last). This is why density should be considered in tandem with thickness, as it's possible that a dense 8mm product would outperform a thicker 10mm product that scrimps on material. The latter would feel nice and spongy underfoot to start with, but flatten much quicker over time, making the former a better long-term investment.
That said, there can be too much of a good thing. Highly dense underlays (300 kg/m³ or above) are traditionally used in commercial environments – think hotel lobbies, restaurants and busy offices – because they can handle a lot of foot traffic and are extremely durable. But this durability will come by sacrificing comfort, as high-density underlay (sometimes referred to as 'contract underlay') can be very firm underfoot.
For a typical home we'd recommend a density rating above 100 kg/m³. This will ensure your underlay outlasts your carpet but still provides that comfortable, plush feeling when walking on it.
Factors that influence carpet underlay thickness
Budget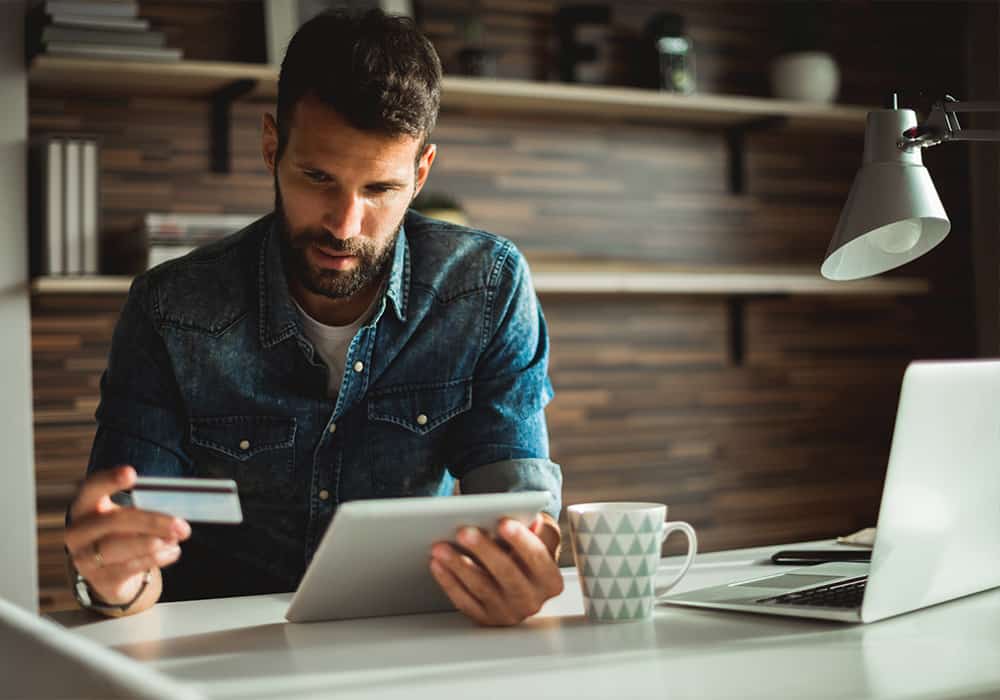 Budget is the primary consideration for any consumer when it comes to purchasing carpet underlay. If money is no object, you don't have to sacrifice – go for a top of the range, 11-12mm product and reap all the benefits it brings with it.
For everyone else, you'll want to get the most for your money. This might mean sacrificing a millimetre in thickness for a slightly better density rating, prioritising comfort over sound reduction, or going for an unbranded product over one from a well-known name.
If you're unsure what underlay to buy for your project and where to compromise, get in touch with our expert team on contact@simplyunderlay.co.uk and we will give you a personal recommendation for your specific budget and requirements.
Existing door clearance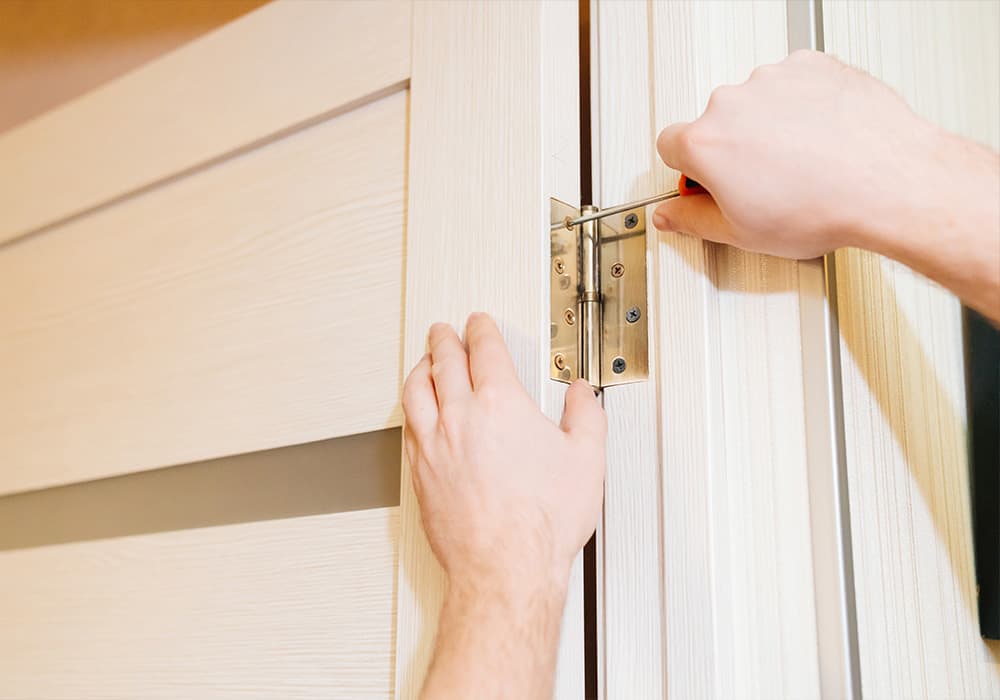 Something we see time and time again is customers replacing their existing thin underlay with a supremely thick, luxury carpet underlay. While we wholeheartedly agree with making this upgrade, what many don't consider is how much clearance there is between the subfloor and existing internal doors.
Oftentimes, picking a substantially thicker underlay to what is already down will mean doors need shaving and rehanging, or rising butt hinges installing. Both of these tasks are best completed by a joiner, which can add a level of expense you may not have budgeted for initially.
Subfloor type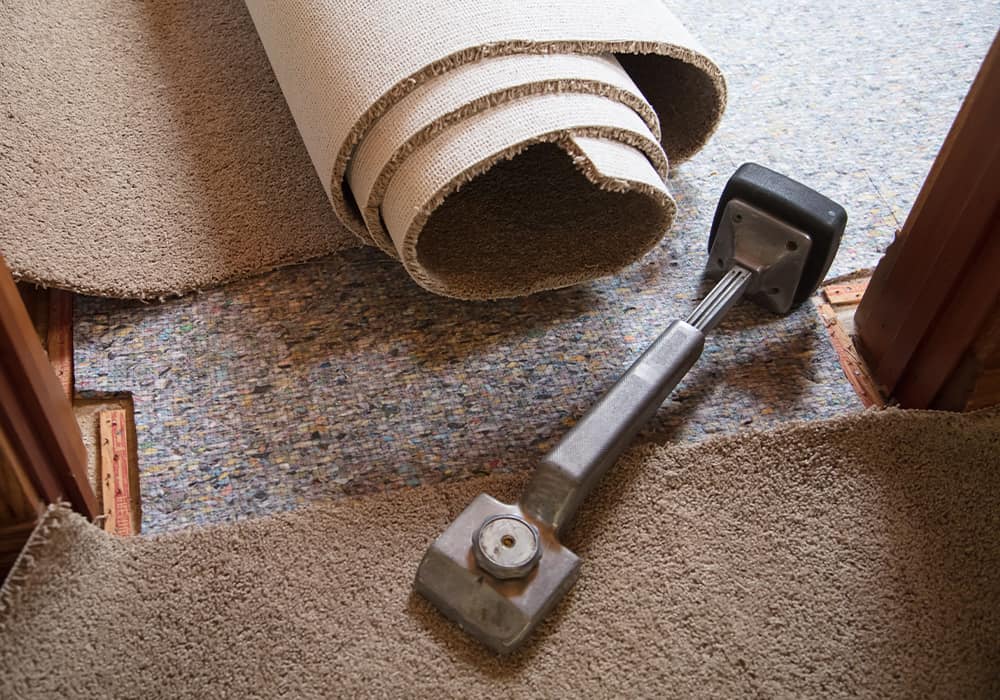 If you've chosen carpet over wood, laminate or LVT flooring then one of the determining factors was probably comfort. Carpet creates a warm, plush feeling under your feet, but your subfloor can quickly undermine this.
Uneven floorboards or lumps and bumps in screed are noticeable when walking across a room, but a thick underlay will help smooth out any imperfections and create a level base for your carpet to be installed on.
Not only that, thicker carpet underlays also tend to be better insulators, which means any draughts or cold spots are negated, leading to a much more comfortable experience underfoot.
Underfloor heating systems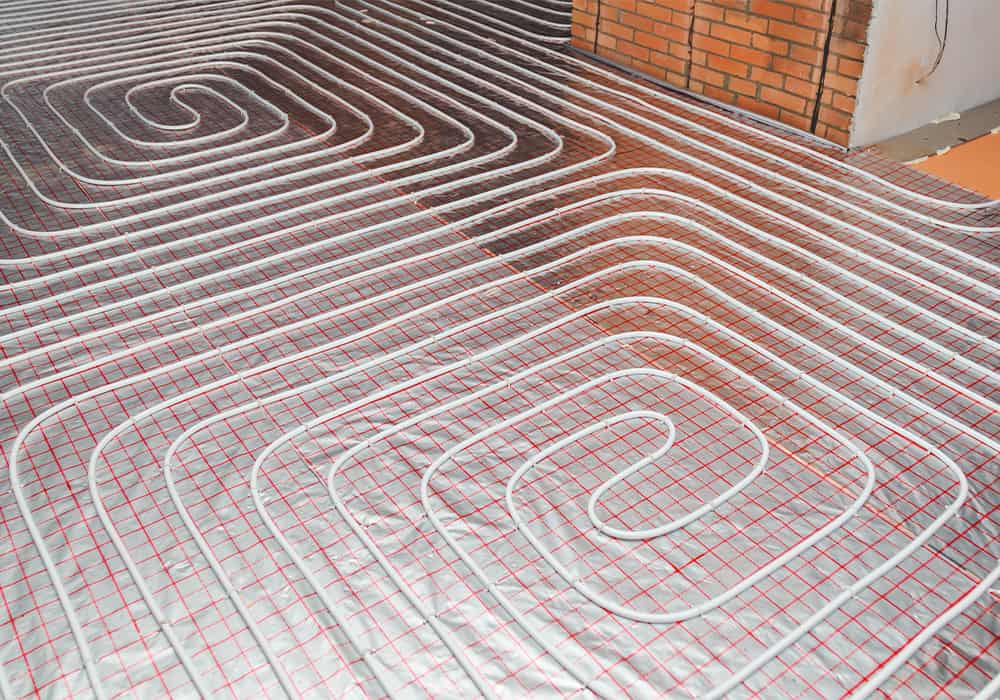 As touched on earlier in this guide, homes with underfloor heating (UFH) systems will require a specialist underlay with a low TOG rating.
TOG is a measure of thermal resistance – the higher the value, the less heat that can pass through the underlay. Therefore, underfloor heating underlays typically fall into our 'thin' category (6mm – 8mm) – Wilsons Thermalstream being the outlier at 10mm.
So, if your house has UFH installed you will naturally be confined to a smaller range of thicknesses.
The room it will be installed in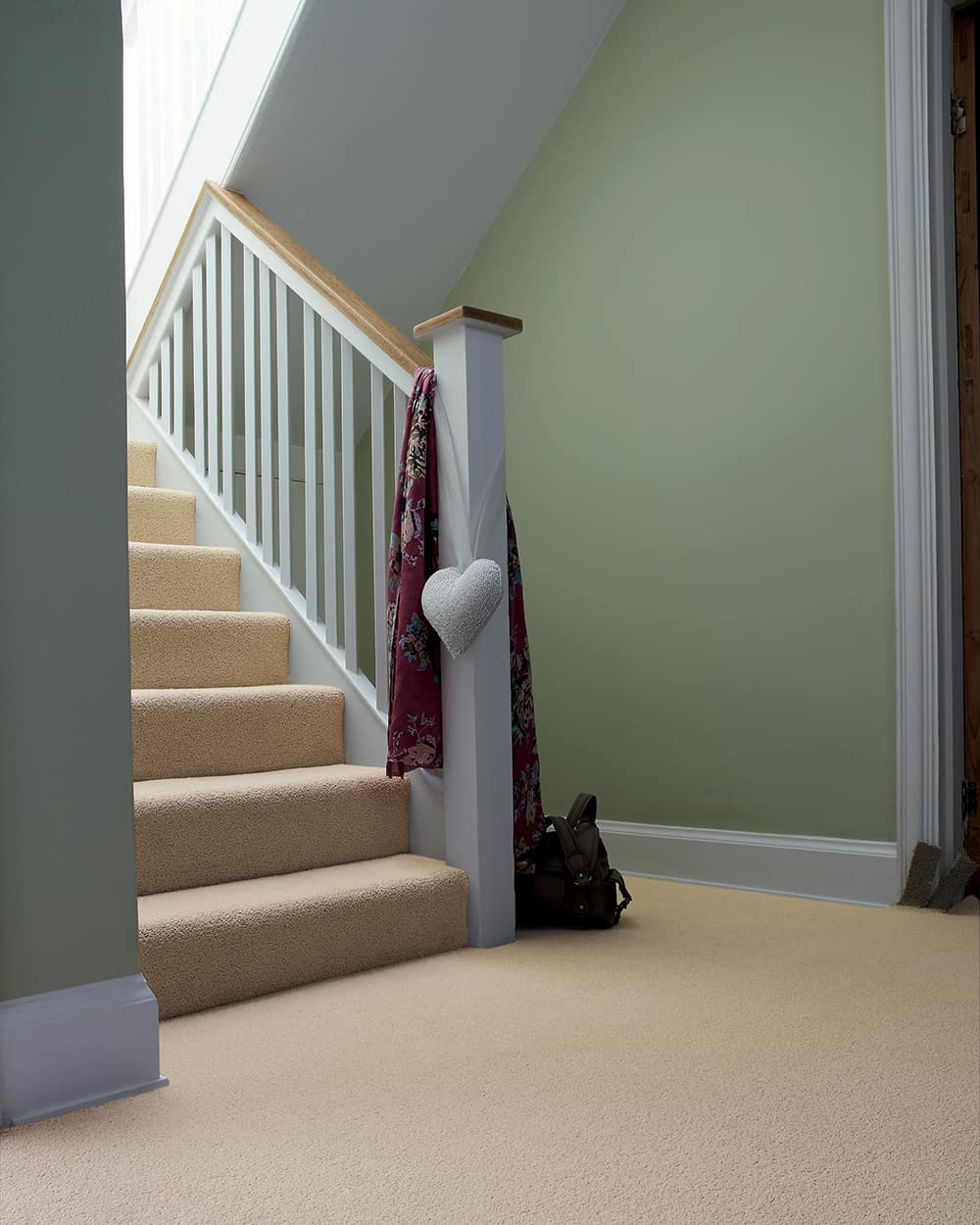 Each area of your home is used for a different purpose and therefore has its own unique requirements.
For example, stairs and hallways take the brunt of the foot traffic on a daily basis, and aren't places where people tend to linger, so you'll want a thinner, denser underlay that will support your carpet long term and won't degrade under all that use.
Compare this to your living room, which is a space you enjoy extended down time in. You'll likely want your underlay to be much thicker and more insulating to create a warm, comfortable feeling.
Always consider how you'll use the space on a daily basis and then opt for an underlay thickness that fits the room's specific needs. Speaking of which…
Recommended carpet underlay thickness
Living rooms and bedrooms
Designed for relaxation, these rooms typically don't experience heavy foot traffic (barring through lounges), so we'd advise going for the thickest carpet underlay you can afford to create that sense of warmth and comfort.
A PU foam underlay at least 10mm thick would be ideal. This type of underlay has the added bonus of being extremely insulating, reducing both sound transfer and heat loss, resulting in a cosy, peaceful environment.
Recommendation: 10mm+ thickness; density rating above 100 kg/m³; PU foam
Key products: Wilsons Plushwalk 12mm, Tredaire Dreamwalk, Cloud 9 Cumulus
Stairs and hallways
The areas of your home that experience most footfall need an underlay robust enough to handle the constant pressure and 'bounce back'.
Therefore the best carpet underlays for stairs are generally slimmer but have higher density ratings.
Choosing a thick (10mm+) underlay for your stairs is not a good idea as it can pose a trip hazard. Moreover, thicker carpet underlays tend to compress slightly with heavy use, which can lead to irregular wear and unsightly lumps, particularly in frequently trodden areas.
For this reason, we suggest going for an underlay that measures somewhere between 6mm and 9mm in thickness. The bottom end of this range is most suitable for stair runners, when you don't want quite as much 'lift' with the sides of the carpet exposed.
Recommendation: 6-9mm thickness; density rating above 110 kg/m³; PU foam or rubber
Key products: Duralay Durafit 650 (stair runners), Cloud 9 Cirrus, Tredaire Softwalk
All areas of the home
If you don't want the headache of having to order different products for different rooms, go for a good all-round underlay.
By using the same product across the entire home you'll eliminate wastage and save money, but you need to pick something that works in all areas.
A medium thickness foam underlay (9-10mm) will perform as well in your bedroom as it does on the stairs. Offering a balance of comfort, durability and insulation, these products are a Jack of all trades.
Recommendation: 9-10mm thickness; PU foam; density rating above 100 kg/m³
Key products: Tredaire Elite, Wilsons Plushwalk 10mm, Tredaire Ambience
Things to remember
Thicker doesn't always mean better when it comes to carpet underlay.
An underlay with a high density rating will last longer and rebound better from foot traffic.
Medium-to-thick PU foam underlays are usually great sound and heat insulators.
If your subfloor is uneven, a thick underlay will help level it out.
Remember that if your new underlay is thicker than your old one, you might need to shave down doors or use rising butt hinges.
The most comfortable underlays will balance thickness and density.
Don't install extremely thick underlay on the stairs as it can be a trip hazard.
Good all-round underlays sit between 9-10mm and can be used in all areas of the home.
Underlays compatible with underfloor heating systems are typically thinner on have low TOG values to allow heat to pass through easier.
Need more help?
Hopefully this guide has armed you with the knowledge to make a confident purchase.
If you're still unsure how thick your underlay should be, please get in touch with our expert team on contact@simplyunderlay.co.uk. We will be more than happy to help.