Underlay isn't one of the most exciting purchases you'll make when renovating your home, but it's certainly one of the most important when it comes to ensuring the longevity and comfort of your flooring.
A high-quality carpet underlay has the ability to transform your living space, offering numerous benefits including sound insulation, warmth and a plush feeling underfoot. But not all underlays are created equal.
With such a wide range of materials, densities and thicknesses available on the market, choosing the right underlay can seem daunting. But that's why we've created this guide: to help demystify the world of carpet underlay and arm you with the knowledge you need to make the right decision for your budget and space.
First things first:
Which room are you renovating?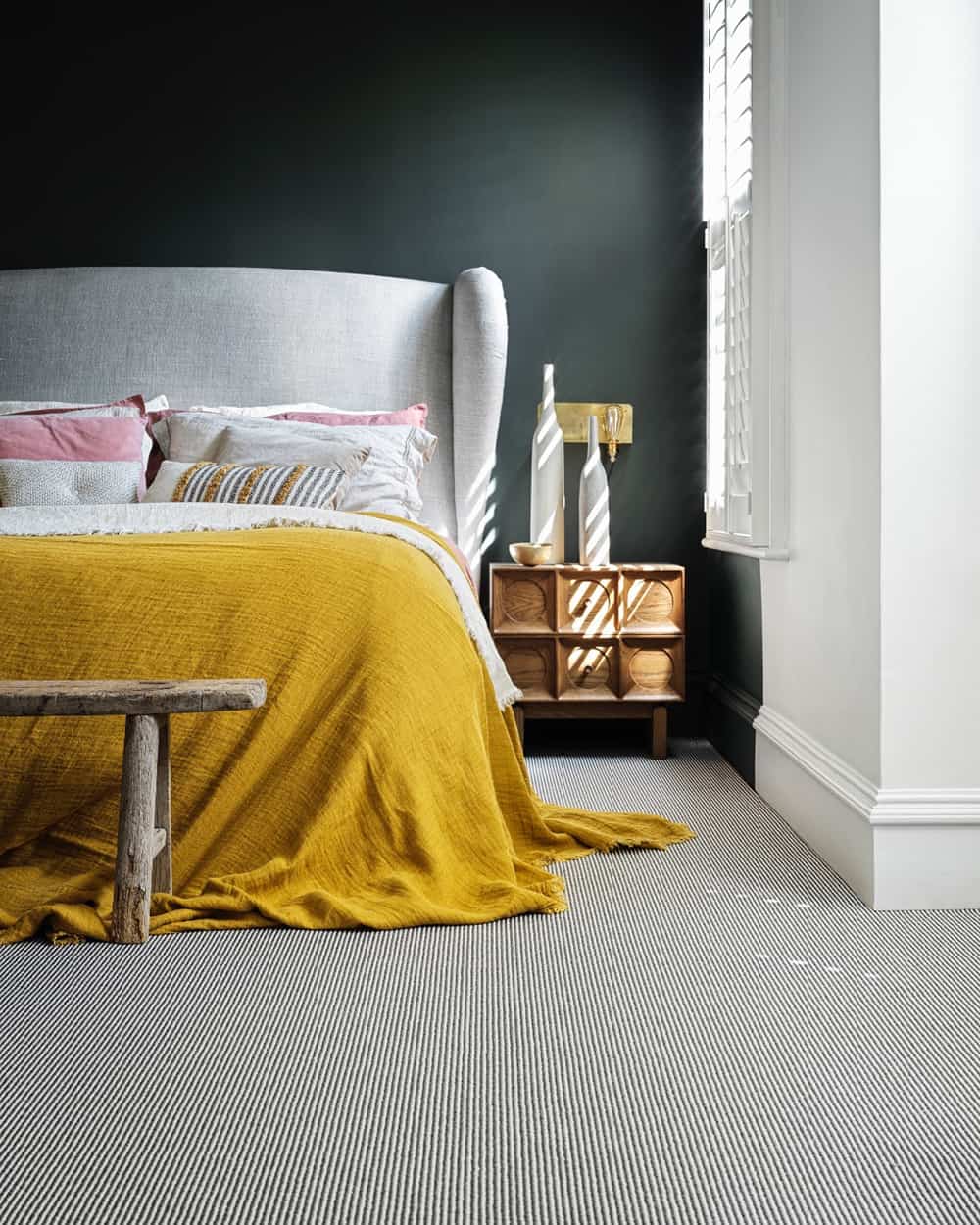 The room you're laying new carpet in will be the key factor in what you should be looking for from an underlay, with each space having its own unique requirements and use.
For example, in a bedroom you'll likely want something thicker and softer underfoot, to give you that sense of comfort and warmth that aids relaxation. Bedroom underlay doesn't need to be quite as dense either, as it's a room that typically has very little foot traffic.
Compare this to your hallways and stairs, however. These areas take a pounding daily as they are throughways in your home. In these areas you're going to want an underlay that is slightly thinner but extremely dense to ensure your carpet has the support it needs day to day.
Of course, if you're renovating multiple rooms, or an entire home, it's not always feasible (or cost effective) to order multiple different types of underlay. In this case you should look for an all-rounder that has good stats across the board and a thickness of 8mm-9mm.
Below you'll find our recommendations and suggestions for the key rooms in your home.
Bedrooms & living rooms
These areas are designed for relaxation and don't often see heavy footfall (unless it's a through lounge), so it's best to opt for the thickest carpet underlay you can to provide that warm, comfortable feeling underfoot.
A PU foam underlay at least 10mm thick would be ideal for these rooms. This type of underlay has the added bonus of being extremely insulating, which helps reduce both sound transfer and heat loss, creating a cosy, peaceful environment.
Stairs, hallways and landings
These are the areas of your home that see the most foot traffic on a daily basis, so you need an underlay that can stand up to the pressure and (literally) 'bounce back'.
The best carpet underlays for stairs are usually thinner and extremely dense. Any product with a density rating above 100kg/m³ will offer the required support for your flooring and help extend its lifespan.
Opting for a thick underlay on the stairs can be a trip and safety hazard. Not only that, thicker products tend to compress over time, leading to uneven wear and unsightly lumps in the carpet, especially in high-traffic areas. This is why we recommend opting for something between 6mm and 9mm.
When it comes to material, PU foam is a foolproof choice for all areas of the home, including hallways, stairs and landings, but if you live in a particularly busy household then consider going for a crumb rubber or sponge rubber underlay – both of these are made using recycled car tyres, offering unrivalled durability and support.
Do you have specific needs?
Carpet underlay is able to alleviate a number of common household issues. Below we cover a few that our customers regularly experience, and the type of carpet underlay that is best equipped to solve the problem.
Cold, draughty rooms
With gas and electricity bills higher than ever, we're all looking for ways to reduce heat loss and keep our rooms toasty. And whether it's old solid brick walls or draughty floorboards causing the issue, there are underlays on the market that can help.
The key measurement you need to concern yourself with here is tog rating. Tog is a measure of thermal resistance – the higher the value, the less heat that can pass through the underlay.
We class any product with a tog rating over 2.0 as a 'thermal' (or insulating) carpet underlay. Consider them like insulation for your floor – ensuring warmer rooms, reduced heat loss and, in theory, lower heating bills.
Noise pollution
Whether it's kids running up and down the stairs, loud music from the flat below or your teenager shouting at a games console in their bedroom, excess noise can quickly ruin that sense of calm you desire from your home.
So, if you find yourself constantly reaching for the ear plugs, an acoustic underlay could offer a more permanent solution.
This type of underlay is specifically designed to reduce noise transfer between floors.The key stat you need to take note of here is 'impact sound reduction', which is measured in decibels (dB). You should be looking for a rating of 40 dB or above, and the thicker the better.
Uncomfortable subfloors
If you've chosen carpet over wood, laminate or LVT flooring then one of the determining factors was likely comfort. Carpet creates a warm, plush feeling under your feet, but your subfloor can quickly undermine this sensation.
Uneven floorboards or lumps and bumps in screed are noticeable when walking across a room, but a quality underlay with a high density rating (above 100kg/m³) will help smooth out any imperfections, creating a flat, level base for your carpet and ensuring it looks its best for years to come.
Not only that, if you go for a thicker product (10mm and above) with a high tog rating (2.0+) you'll also ensure that any draughts or cold spots are negated, leading to a much more comfortable experience underfoot.
The type of carpet you've chosen
It goes without saying that the type of carpet you've chosen for your home will play a huge role in the underlay you choose.
Here are the three key concerns when it comes to finding your carpet's perfect partner.
Thin carpets
Thinner carpets, whether it's a short pile or tight loop design, are durable and hard wearing, which is great if you have a busy household or want your flooring to last. However, they can sometimes lack the all-important comfort factor.
This is where your carpet underlay makes up the shortfall. Go for a thicker underlay and you'll gain all the aforementioned benefits with the added sense of luxury underfoot.
Thick carpets
At the other end of the scale, if you've gone for a deep or shag pile carpet then the floor covering itself has a level of comfort built in. Yet this usually comes at the expense of durability.
To ensure your flooring looks its best for longer, with thicker, softer carpets like this we would recommend going for something slightly thinner (around 8mm-9mm) and denser (over 100kg/m³) to give it the support it needs to stop flattening so quickly.
Expert tip: it's important to consider the height of your existing door frames when picking an underlay for a thick carpet – if you go too thick with the underlay then the combined height may lead to you needing a joiner to trim and rehang doors, adding to the renovation expense.
Natural floor coverings
Natural floor coverings like sisal, seagrass, jute and coir have unique requirements when it comes to fitting and underlay.
These types of carpets need to be installed using the 'double stick' method. This involves sticking the underlay to the subfloor and then sticking the floor covering to the underlay (double stick, get it?). The reason you do this is because natural products expand and contract with fluctuations in temperature, so glueing twice reduces movement.
As you need to adhere the underlay to the subfloor, not all products are suitable for this method of installation. To make life easier, on each of our product pages we've included a 'Suitable For Naturals' section in the product specification, which will help you instantly identify those that can be used with your natural floor covering.
The subfloor
What you're laying your carpet on top of can have a major influence on the type of underlay you should opt for. Each home and room can throw up its own issues: you may have an older property with uneven floorboards; you may have underfloor heating throughout the ground floor; you may need to take the edge off an extremely hard concrete subfloor.
No matter what you're dealing with, here's some advice for the common types we come across.
Concrete subfloors
Concrete floors are hard, cold and unforgiving. So you're going to want an underlay that is both comfortable and acts as an insulating barrier.
Therefore, we would general recommend going for something 10mm thick or above, with a 2.0+ tog rating.
Floorboards
Older properties often have wooden floorboards that are suspended above ground. While they can look beautiful once exposed and treated, wood can quickly deteriorate and twist over the years, leading to the need to cover with carpet.
The primary issue here is that floorboards are often draughty due to the aforementioned warping, plus this can lead to an uneven base on which to lay your carpet.
If this applies to your home, you're going to want a thick, dense underlay that can smooth out the imperfections in the subfloor. A sponge rubber underlay would be ideal as not only is it one of the most durable types of underlay you can buy, they also have tiny air pockets that will trap the cold air rising through the cracks beneath. PU foam is another solid choice.
Plywood/OSB
Modern properties and new builds typically use plywood or OSB for the subfloor as it's easy and cost effective to lay, plus creates a perfectly level surface when installed correctly.
The good news is that there are no specific requirements for your underlay here, so you can use other factors to determine the right product for your space.
Underfloor heating systems
Underfloor heating has become an extremely popular alternative to radiators in modern homes, offering increased efficiency and a cleaner, minimal aesthetic.
However, if you don't pick the right underlay product to sit between your subfloor and carpet, you'll quickly find you lose all the benefits of this type of heating system.
Tog rating is the key metric you need to be concerned with when laying underlay and carpet over an underfloor heating system. If the tog value is too high it will trap heat underneath, reducing the effect of your system (and costing you money).
In this scenario, you'll need a specialist underfloor heating underlay, which is designed to allow heat to pass through. The combined underlay and carpet tog rating shouldn't exceed 2.5, and we'd recommend keeping this to 2.0 for optimal performance. With a typical wool/nylon mix carpet coming in around 1.2 tog, you would want your underlay to be 0.8 tog or less.
Need help choosing the right carpet underlay?
Hopefully this guide has armed you with the knowledge to make a confident purchase.
If you're still unsure what would be the best underlay for your project, please get in touch with our expert team on contact@simplyunderlay.co.uk. We will be more than happy to help.