With any renovation project there are hundreds of decisions that need to be made. What colour should I paint the walls? What size furniture would look best in the space? What type of flooring should I go for? Yet outside of these core considerations, there are a number of seemingly minor details that can greatly impact the overall result and whether you come in within budget.
One of these details is floor height. Many customers when laying new carpet don't consider the overall thickness of their carpet and underlay, blindly picking the thickest versions to up the comfort factor.
However, if your previous carpet and underlay were a lot thinner, doing this can lead to issues such as trip hazards (where the finished floor height is now slightly above the adjoining room) or no door clearance (where you'll need to pay a joiner to shave and rehang your doors).
Therefore, it pays to consider carpet and underlay thickness in advance. Here's what you need to know.
Average thickness of carpet and underlay
The average thickness of carpet and underlay combined is around 18mm. This is based on a standard 9mm underlay and a short pile carpet, such as a twist or Berber.
Yet it should be noted that the thickness of both carpet and underlay varies greatly, meaning there's no definitive answer to the question. The good news though is that overall thickness is entirely within your control.
With that in mind, here's a handy guide to carpet and underlay thickness, so you can make a more educated guess on finished floor height prior to purchasing.
Carpet underlay thickness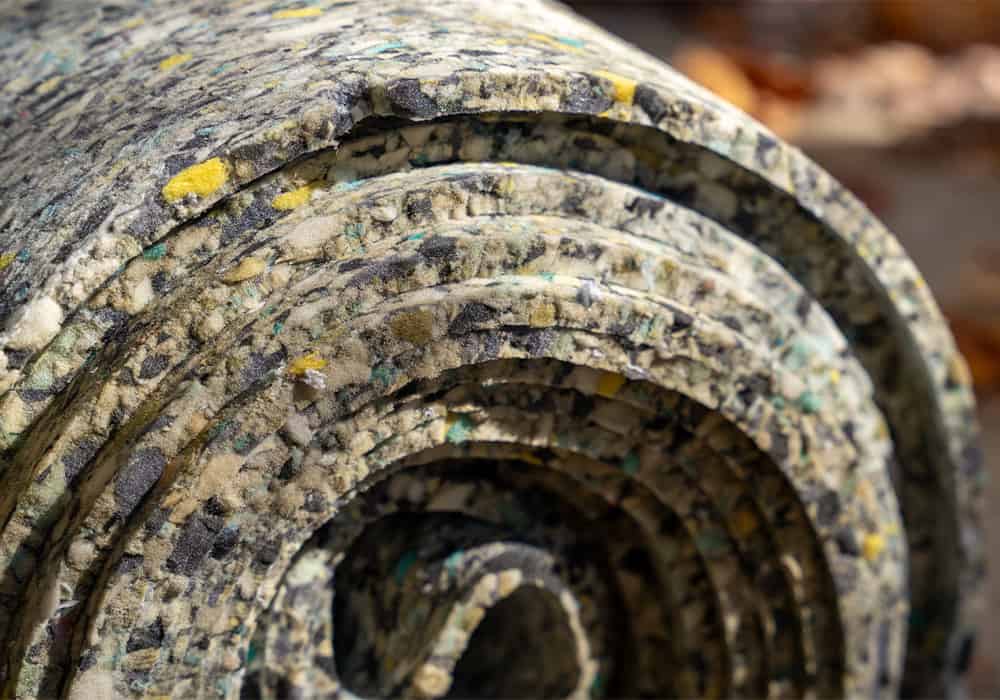 The table below offers an overview of how we classify different carpet underlay thicknesses, and what you can expect from each.
TYPE
MEASUREMENT
KEY FEATURES
Thin
6-8mm
6-8mm carpet underlay is typically a budget option that offers the basic support your carpet needs to look its best, along with a comfortable sensation underfoot.

There are some specialist products that fall into this category too, though, including underlays which are compatible with underfloor heating (which needs to be thinner to let heat transfer efficiently) and high-density rubber underlays used in commercial environments.
Medium
9-10mm
9-10mm carpet underlays are usually good all-rounders that can be installed in all areas of the home, including stairs and hallways.

This thickness is popular with homeowners who want to use the same underlay across their entire home/project, saving the hassle of ordering multiple products and minimising wastage.
Thick
11mm+
Any carpet underlay 11mm or over sits at the top end of the market and offers a real sense of luxury.

Thick carpet underlay like this is best suited to areas with low foot traffic, like bedrooms and living rooms. They shouldn't really be installed on stairs as they can be a safety/trip hazard.
Carpet thickness
There are many different types of carpet available these days, so below we're set to break down some of the most popular options and provide average thicknesses for each.
Note: the measurements below include the carpet backing as well as the pile.
TYPE
MEASUREMENT
KEY FEATURES
Short-pile carpets
(including twist and Berber)
7-9mm
Short pile carpets include things like twists, Berber and some loop styles. They remain the most popular type of carpet because they're durable, hardwearing and relatively cost-effective.
Loop carpets
5-15mm
Loop carpets vary greatly in height as it depends on the type of loop used. Thin, tight loops are extremely hardwearing and good for areas with high foot traffic, whereas a big chunky wool loop can feel wonderful underfoot in a bedroom.
Deep-pile carpets
(including velvet and Saxony)
15-25mm
There is a growing trend for deep-pile carpets these days, which often take the form of thick velvet, Saxony and shag pile designs. They feel very comfortable underfoot but do have a tendency to flatten over time, particularly where they receive heavy footfall.

They work best in living rooms and bedrooms.
Natural flooring
(including sisal, seagrass and jute)
5-8mm
Sisal, seagrass and jute carpets have exploded in popularity in recent times, satisfying a need for those customers who are eco-conscious. The most sustainable type of carpet you can buy, these natural products are also full of texture and bring something different to any room.

They aren't the most comfortable option, however, and they're quite delicate compared to traditional carpet types when it comes to cleaning and maintenance.
Need help?
Hopefully this guide has armed you with the knowledge to make a confident purchase.
If you're still unsure how thick your underlay should be, please get in touch with our expert team at contact@simplyunderlay.co.uk. We will be more than happy to help.