Laminate is a durable flooring choice that will stand up to heavy daily use when installed properly. One way to ensure its longevity is by using the right underlay.
You have two key options when it comes to laminate underlay: you can buy laminate boards with padding already attached to the back, or you can buy separate underlay to install underneath the boards.
Below we explore the key differences between the two, as well as the pros and cons of each, so you can pick the right option for your home. So, to pad or not to pad?
In this guide
Laminate underlay options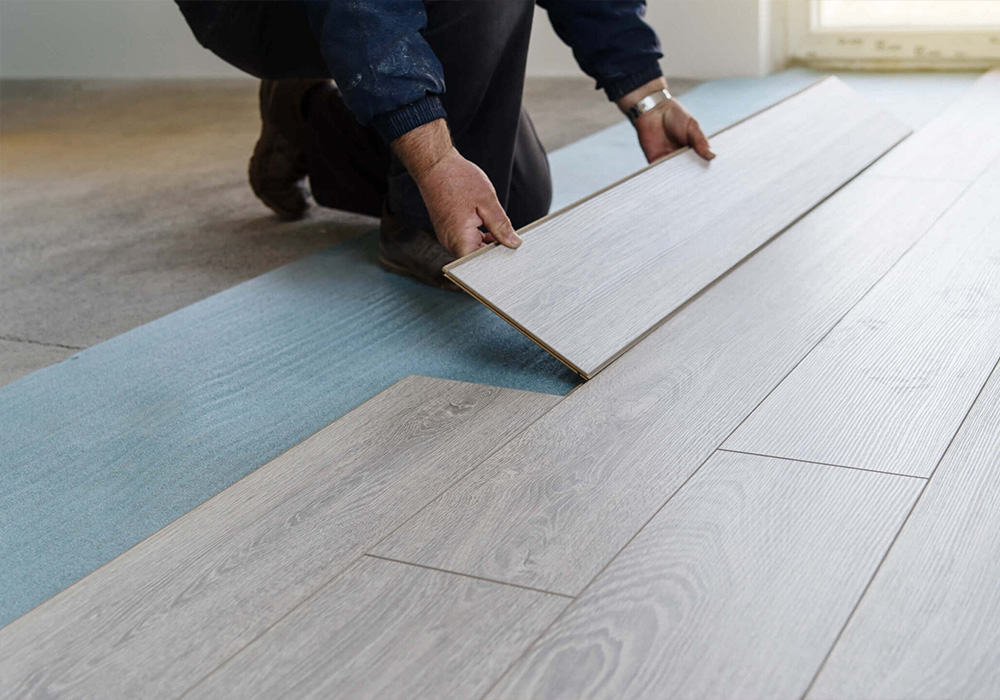 Most laminate flooring brands will recommend installing underlay prior to laying their boards. This is because underlay offers a number of benefits that enhance the quality of your floor, including heat and sound insulation, increased comfort underfoot, a level finish and, most importantly, the prevention of moisture from the subfloor damaging the laminate.
The two key types of laminate underlay available are:
Separate underlay: this is usually a roll of polyurethane (PU) foam, sponge rubber, cork or felt that you lay on the subfloor, then tape the joints before installing the laminate. Fibreboard is another popular option, which comes in rigid sheets you cut to size and lay in a staggered brickwork pattern.
Attached underlay: some laminate flooring comes with padding pre-attached to the back of the boards, which negates the need for a separate underlay.
Should you buy separate underlay?
At first glance, buying laminate boards with underlay already attached feels like a no-brainer when it comes to convenience. But there are a number of reasons why you would be better off installing a separate underlay layer:
Rather than be restricted to what's attached to the boards, separate underlay enables you to choose the right product based on your specific needs, whether you want better heat insulation, increased soundproofing or something that will smooth out your subfloor.
Underlay varies in price, from budget to luxury, so you'll always find something that fits your budget. For example, you could go for a low-cost PU foam underlay and spend extra on the quality of the laminate itself.
Likewise, if you're renovating on a budget, you can improve the feel of thin laminate boards by using a thicker, high-quality underlay. The latter will always be a more cost-effective option than going for expensive flooring.
Separate underlay: need to know
These are the key things you should know about separate underlay:
You'll need to lay the underlay first, then install the flooring on top. Your fitter may charge slightly more for this (compared to pre-attached boards) but it is a relatively easy process that any DIYer would be able to complete.
Separate underlay gives you more control over your laminate flooring installation, as you're not restricted to the padding the manufacturer has attached. Instead, you can choose the underlay that best suits your needs, whether you want soundproofing, better heat insulation or need something that will even out a subfloor.
When installed properly, separate underlay gives full coverage of the subfloor, with any joins or gaps taped to stop moisture ingress. This has the added benefit of reducing heat loss and sound transfer, too.
Quality laminate underlays have a built-in damp-proof membrane (DPM) that offers additional protection against moisture and ensures your laminate lasts longer.
Pre-attached underlay: need to know
These are the key things you should know about pre-attached underlay:
Boards with underlay attached to the back are quicker to lay since you're essentially skipping a step in the installation process. That said, it doesn't actually take that long to roll out, trim and tape underlay together, so this shouldn't be a primary driver of your purchase.
Laminate boards with padding attached are usually much thinner overall than if you were to combine a separate underlay with laminate. This can make your flooring feel less solid underfoot and reduce its durability, not to mention having to sacrifice some heat and sound insulation.
As the underlay is attached to the laminate, it means the underlay will naturally have small gaps between each board. This can allow moisture to seep through and doesn't give as much protection as when you install a roll of underlay and tape the joints.
The padding will usually be of lower quality and less dense than separate underlay, which means that it can compress under consistent use in high-traffic areas.
The verdict
It should be clear to see that a separate laminate underlay is the better option if you want to achieve a high-quality finish to your laminate floor.
Separate underlay offers multiple benefits over pre-attached boards, including better heat insulation and sound reduction, full coverage of the subfloor and additional protection against moisture ingress.
So, if you want your floor to look its best and perform to the highest level for longer, there's no other choice.